Gweka Consulting Services is the best platform to help College Training & Placement Officers in getting their fresher trained, internships and job core profile in corporate MNC. We have made it very easy for College TPO to place their students in bulk by connecting to corporate HR via GCS. When we were working on the development of our GCS Job portal, we felt that there is no such platform that provides all-round placement solutions to College TPO's and that's when the idea of being more than a job portal came in our minds. 
Connect HR | Build Communitiy | Branding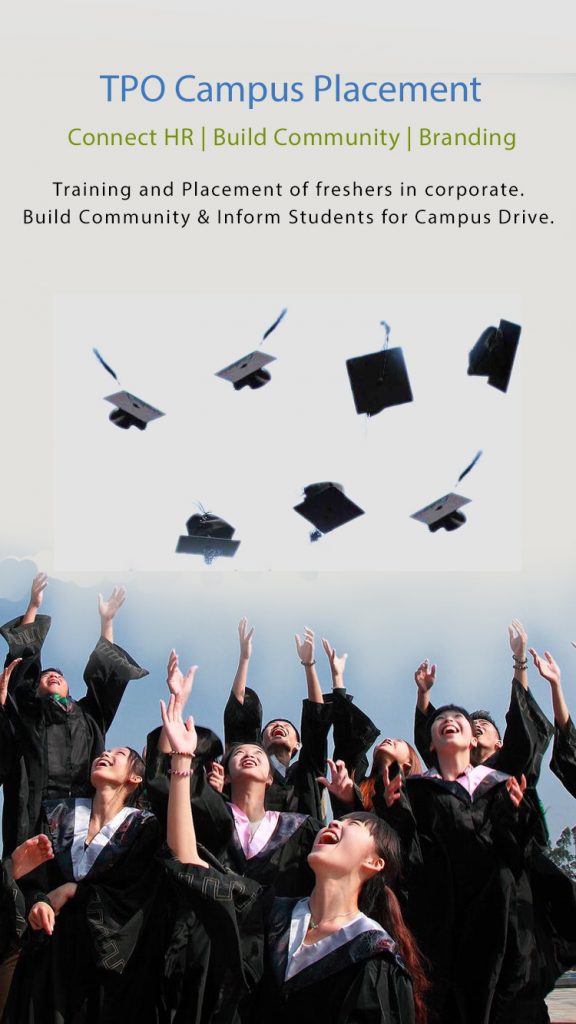 We at Gweka Consulting Services understand how hard the work of a College Training and Placement Officer is. Accordingly, we have created a platform specifically designed to easily connect corporate HR or recruitment consultant and to pitch campus placement or paid internships for fresher. Having an active account with us will never let you fall short of jobs for the fresher students.
We highly recommend College TPO's or Dean for Student Welfare to come and register with us. It will help you to outperform duties and responsibilities such as arrangement for campus placements, soft skills training, organizing job fair, arranging for job oriented training seminar, personality development courses etc. You may join a community of TPO's with GCS and share the HR Details in this network & strengthen your relations. By creating an account with us, TPO's can easily monitor and connect companies for bulk-hiring. It is difficult for the college to place their pass out students to get an immediate job as most companies don't prefer hiring fresher, and that's where we come in light.  
Training and Placement officers can also build student community to keep students updated about relevant vacancies. We are a job search engine, Register With Us! to find jobs for fresher and place the maximum number of students which will ultimately result in the branding of your college.
Gweka Consulting Services offers a wide range of recruiting and consulting services for several industries wherein there is a bulk requirement of fresher's for entry level profiles i.e. engineering trainee/ management trainee etc. We have got the necessary tools and expertise to help you get your students placed in reputed MNC organizations. We also help college TPO's to get in touch with the companies and trainers to organize campus placement, job fair and training events. An intelligent College TPO like you will surely understand why to choose us. GCS is the helping hand for College TPO's.
Services You Can Avail as a College TPO-
| | | |
| --- | --- | --- |
| S.No. | Name of Services | Description |
| 1 | Connect Corporate HR | Get directly connected to corporate HR's for walk-in drive and campus placement. |
| 2. | Connect HR Consultant | Get in touch with HR Consultant to place students in-bulk and quickly. |
| 3. | Hire Freelancers | Hire freelancers such as Resume Writer wit GCS to draft appealing resumes of your fresher students. |
| 4. | TPO Community | Share and get informed about Job Fair and campus drives by connecting with a network of College TPO's. |
| 5. | Hire Trainer | Hire trainers to get your students ready for corporate world & interviews. |
Register with us!